Corporate Invention Management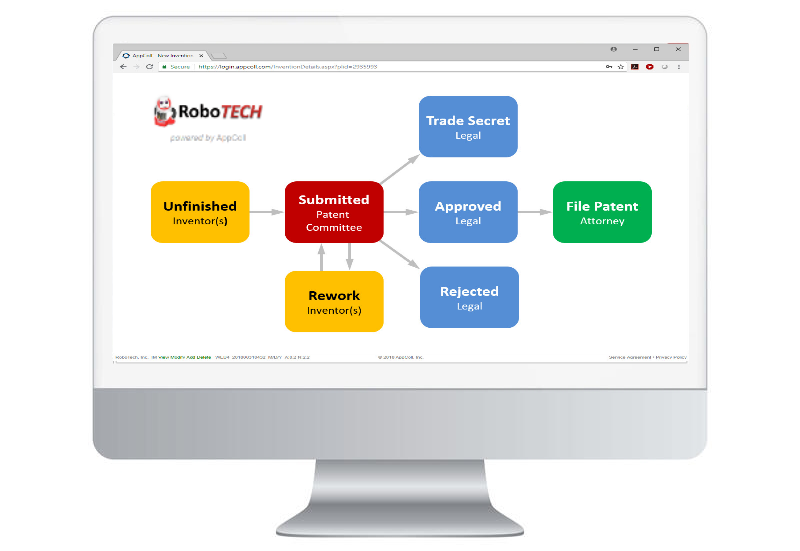 Approval Flow:
Invention Manager™ supports your current invention approval workflow, simple or complex, with as many or as few steps and reviewers as desired. At each point in the flow, emails can be triggered to notify people that they have an action to complete to move the disclosure to the next step, or to inform inventors that their disclosure has an updated status. As part of the flow, you can combine similar disclosures into one, easily merging all the information, for approval as one idea.
AppColl® Invention Manager™ is designed to work with patent committees that meet to decide on patent filings. It also supports virtual patent committees, where members vote independently on a disclosure to decide if an idea should become a patent. Reviewers have a simple user interface to enter their decisions on an idea.
Customized Emails
AppColl® can send automated emails at every step of the way. Send emails to inventors when statuses change. Send email to committee members or other parties when decisions need to be made.  Email your outside counsel when disclosures are ready to be filed.
Tailored Disclosure Process
AppColl® custom tailors your invention process with easy to read and colorful flow charts. Inventors can visibly see how your disclosure process works. Implement our standard flow and be up and running within a day. Or expand with unlimited process steps and parties involved. Changes to the process flow can be done quickly with no down time.
Flexible Disclosure Forms
Create custom invention disclosure forms as simple or complex as you desire. Include dozens of text, dropdown and date fields. Add or remove disclosure questions in real-time.