Manage Your IP Portfolio with Precision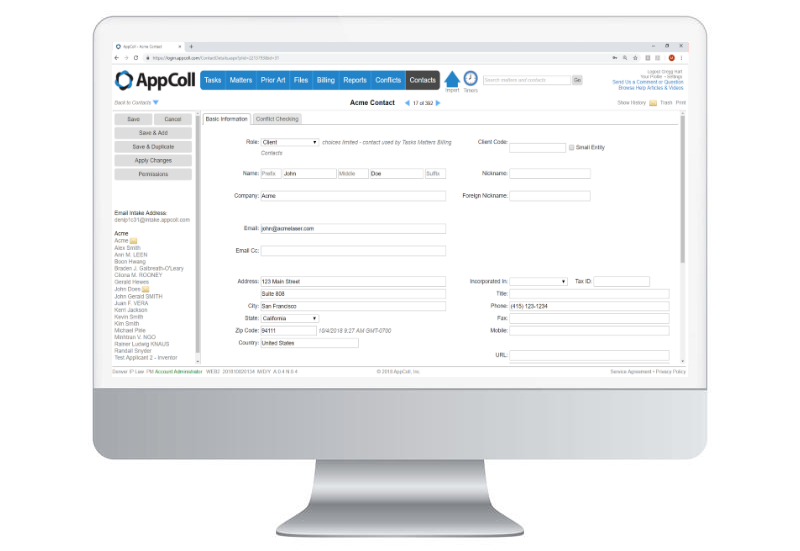 Contacts Module:
AppColl® Contacts module provides access to all your contacts. A summary view provides a complete list of all your contacts with dozens of filters to refine your view to just the ones you wish to see. Choose from dozens of displayable data fields for each contact.
Clicking on a contact record provides all the information for a contact. Each contact record has a role such as attorney, law firm, company, inventor, foreign associate, outside counsel, etc. Easily set access permissions for each user. Allows superusers to see everything and some to only see the matters they're working on. See all patent applications for each inventor. Assign default billing rates to your employees. Track USPTO registration numbers, USPTO customer numbers and deposit account numbers. The information in the contacts module can populate many USPTO forms. For example, address and citizenship for your inventor contact records can auto-populate into ADS forms.
You can easily import your current contact database into AppColl®. We can handle Outlook/Gmail/Apple Mail list or full-blown HR database feeds.  
Contacts Module Features:
Contact Summary View
View your entire contact database from a single screen. See contacts by role, billing rates, employee ID, manager, department, USPTO information, inventor awards, searchable keywords, # applications filed, # issued patents, citizenship and more. Customize the visible information with 60+ data fields per contact. 
Contact Details View
View and edit the complete details of a contact from a single screen. Each contact type, such as Patent Attorney or Client, has a distinct set of fields associated with it. You only see the fields appropriate for each role.
Flexible Permissions
Each contact has 30+ permission parameters. You can assign View, Modify, Add, and Delete permissions for each of AppColl's seven modules. Easily restrict user's visibility to only matters and billing information associated with them.
Merge Contacts
Databases get cluttered and duplicate contacts are inevitable. Through advanced algorithms, AppColl can easily suggest which contacts may be duplicates of one another. A life saver when you have 10,000+ inventors.