Manage Your IP Portfolio with Precision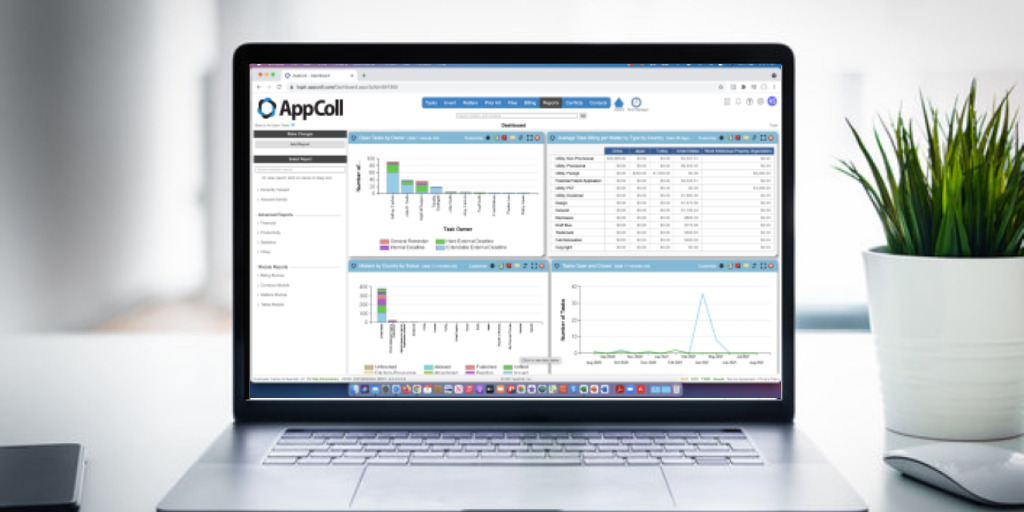 For Law Firms or Corporate Patent Professionals
AppColl® Prosecution Manager™ (PM)  is a cloud native Intellectual Property Management Software tool designed to significantly increase productivity while reducing both the costs and risks of running a patent firm or corporate IP group. Our software is highly-rated for ease of use, productivity, implementation, cost and customer support.
We spoke with many patent attorneys, patent agents, paralegals and docketing specialists about what they want in Intellectual property management software and why other tools fall short. In response, we developed a cost effective, simple to use patent & trademark docketing system that immediately makes you more productive and better organized, using automation wherever possible.
AppColl® patent & trademark management tools provide all essential IP management functions including docketing, contacts, matters, document storage, billing, prior art and reporting. Generate popular PTO forms populated with information from your account with a single click. Create great looking invoices designed for IP attorneys. AppColl® integrates with the USPTO's Private Pair, TSDR, EPO Espacenet and Google patent databases to allow for automated account setup and docket updates.
Our goal is to let you achieve more in less time while improving accuracy.
AppColl® Prosecution Manager™ has 9 interdependent modules:
(click on a module to view more details)

Built on a powerful and flexible workflow engine, the Tasks (docketing) module automates the docketing and workflow activities that you'd expect. AppColl® provides out-of-the-box docketing tasks for US patents and trademarks and PCT patent applications. Workflows and docketing tasks can be customized and extended. Workflows for international filings can be easily added.

Maintain and capture all your IP in a central location. Easily see all your patents, trademarks, copyrights, domains, NDAs, licensing agreements and litigation. Transfer your existing patents and trademarks to AppColl® with ease. Most cases can be imported from the USPTO or EspaceNet with only an application or serial number.

Easily maintain and manage all your prior art. See what art has been cited to what matters, what art needs to be cited and which references have been considered by the examiner. Within seconds you can cross cite hundreds or references to a new application and generate an IDS (Form SB08). 

AppColl® document management solution allows you to store you practice in the cloud. Drag and drop official correspondence, client communication, emails, presentations, submissions, prior art and more. Store multiple revisions of each document. Attach files directly to tasks. Create as many folders are desired. Email documents directly into AppColl®.

Easily track your time and bill your client with professional looking invoices and LEDES (1998b and Ver. 2.0) files, create retainers, record payments and make money. No need to pay for expensive add-on billing systems when AppColl® has it all built-in.

Quickly create the reports you need for clients or internal use. Reports can be created and easily run at a later time to view the most up to date information. Reports can be scheduled to run on a regular basis and emailed to anyone as PDF documents or spreadsheets. AppColl® can also transfer reports to a secure location via SFTP.            

AppColl® PM Invent allows law firms to quickly and accurately collect invention disclosures and contact information from inventors.  Inventors can submit their disclosures quickly and confidently.                                   

Maintain a full database of inventors, clients, attorneys, outside counsel and other important contacts. Import existing contact databases from spreadsheets or email lists. Enabling logins only requires a few button clicks. Carefully configure permissions for everyone that logs into your AppColl® account.

AppColl® provides a way to search information in all matters and contacts, including metadata such as adverse party relationships, keywords and technologies to find potential conflicts.